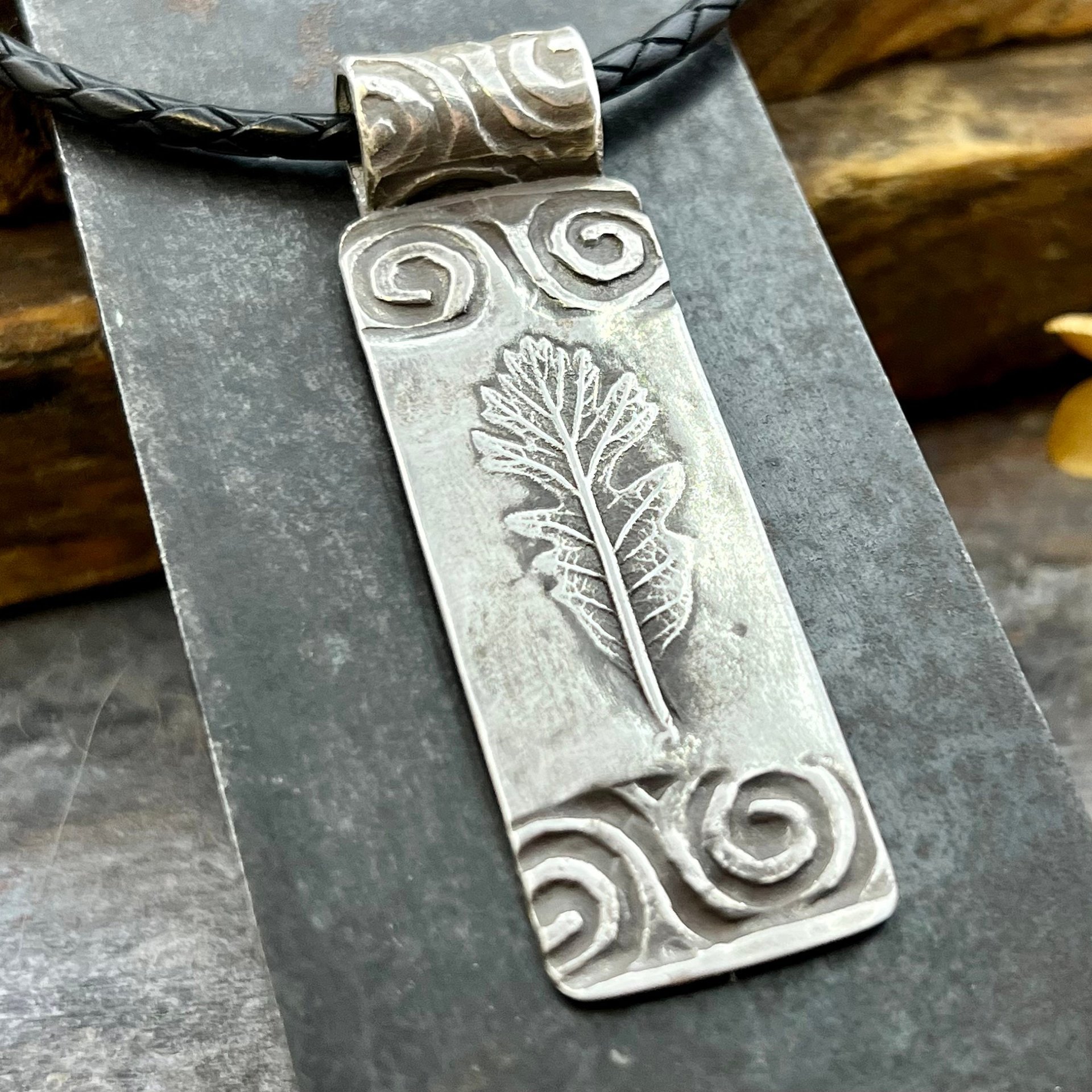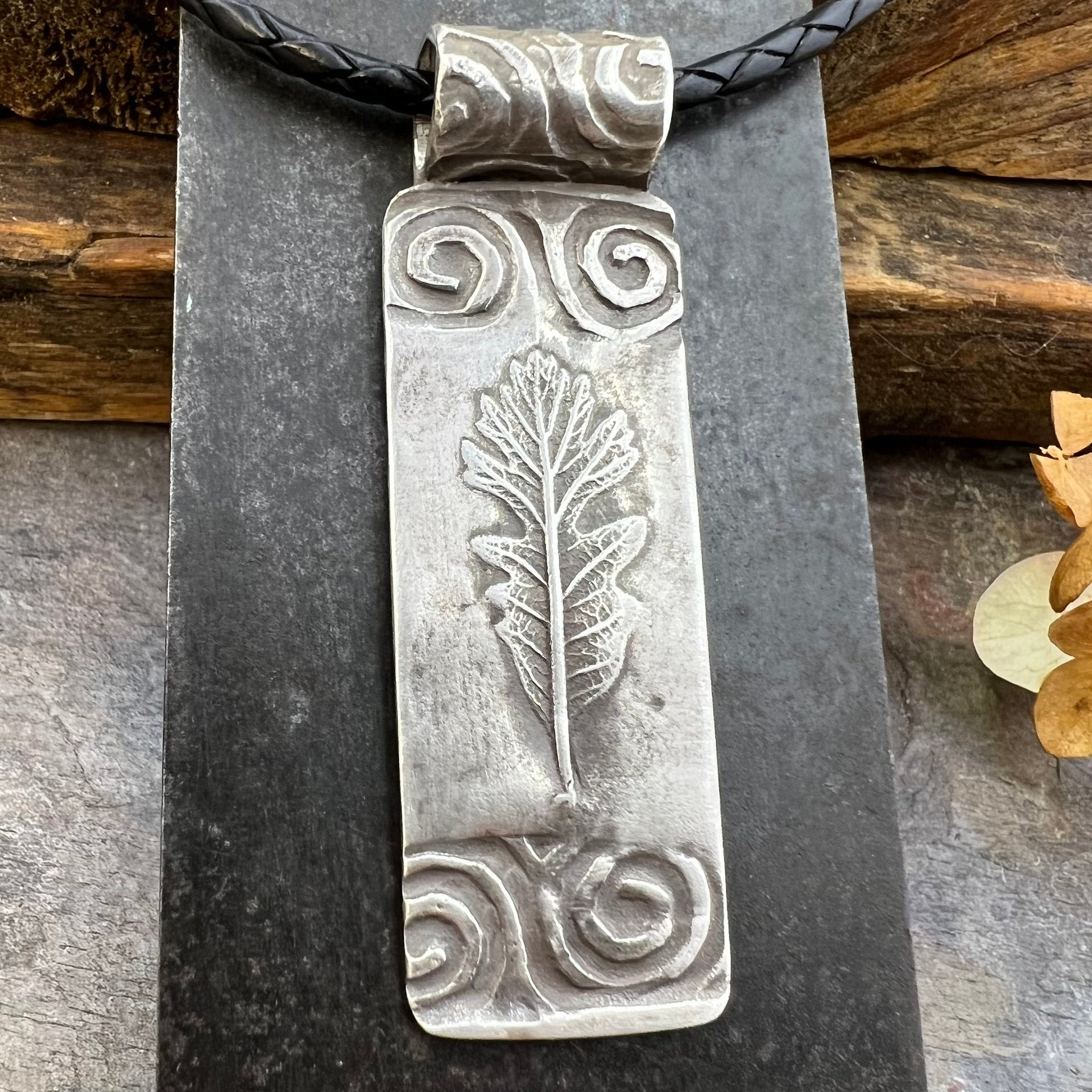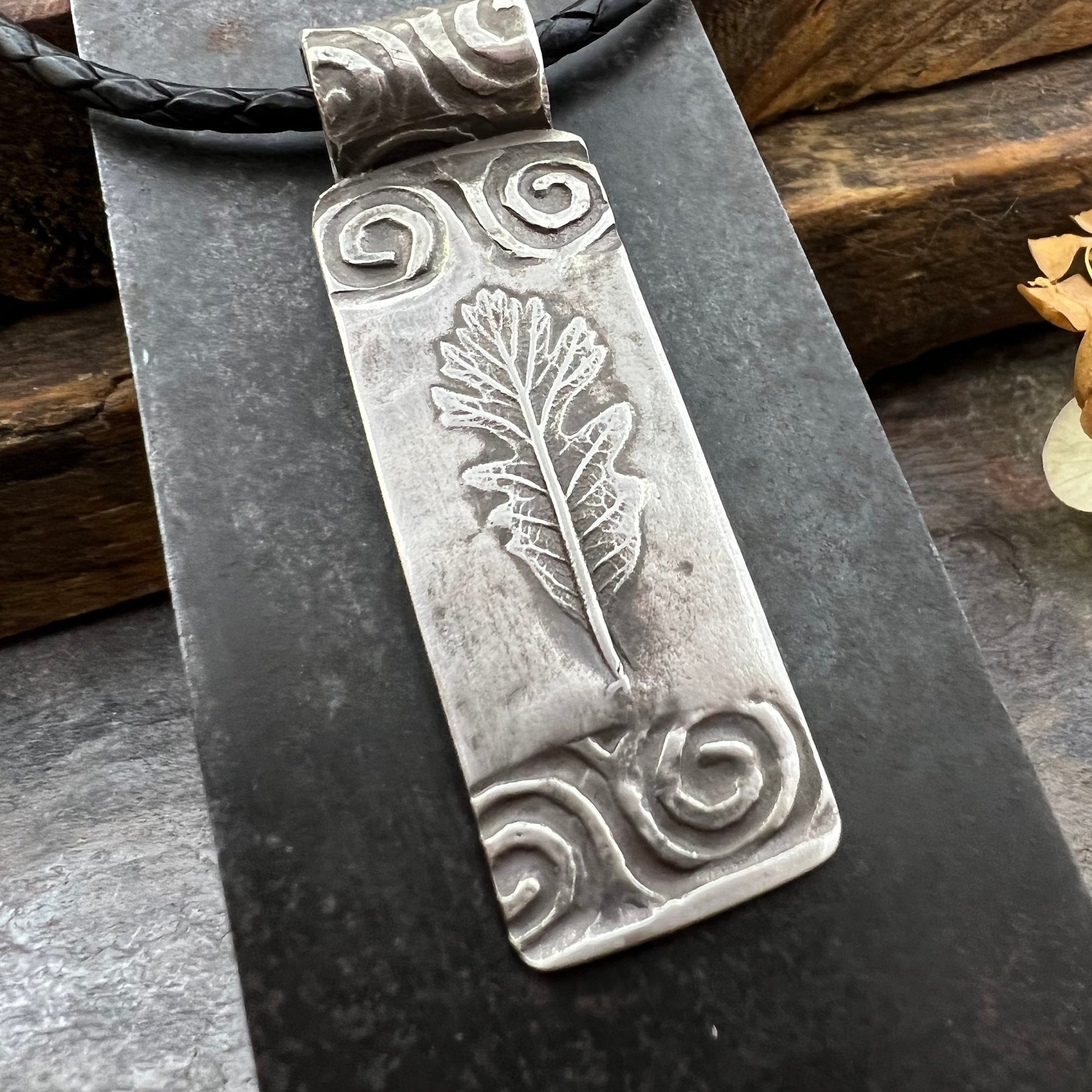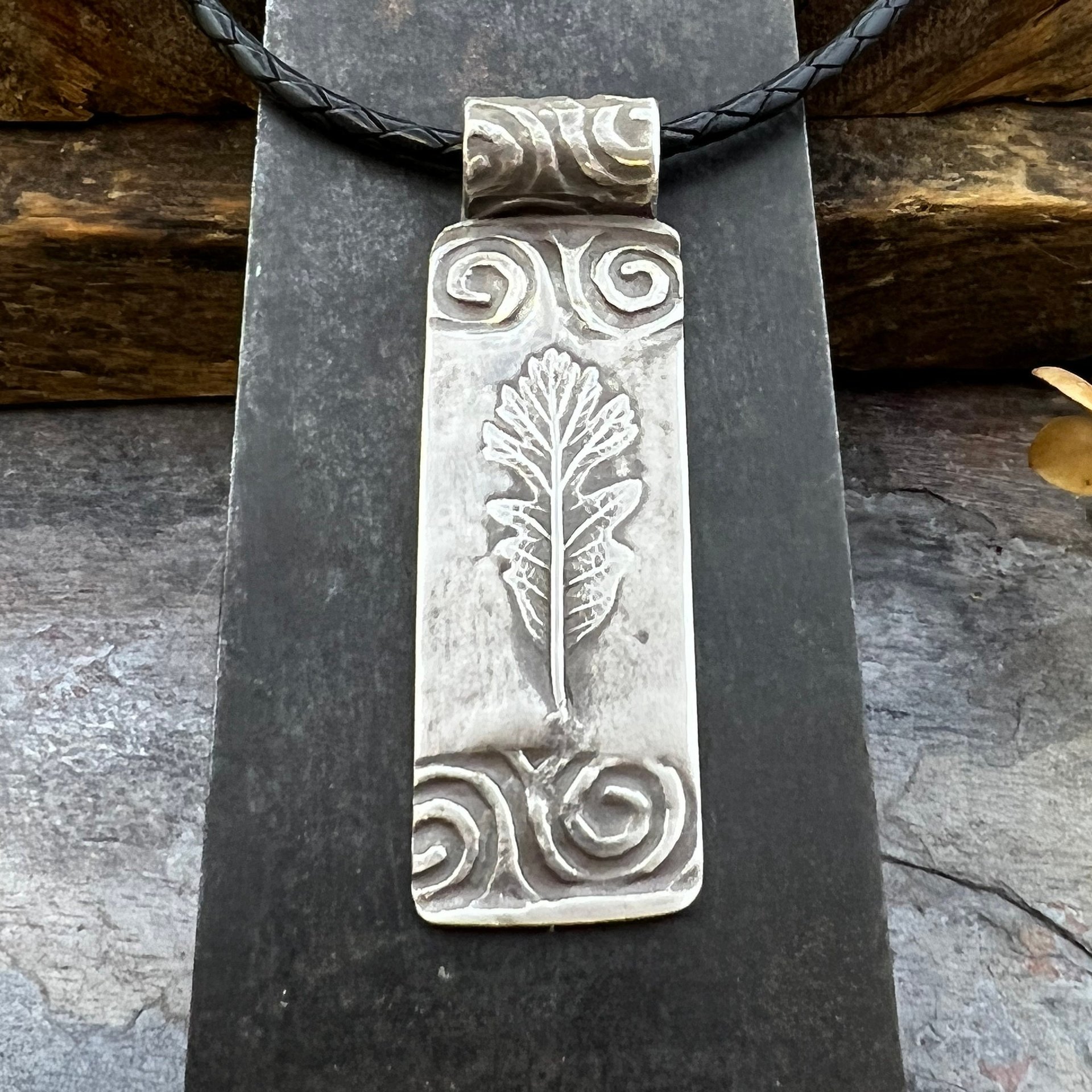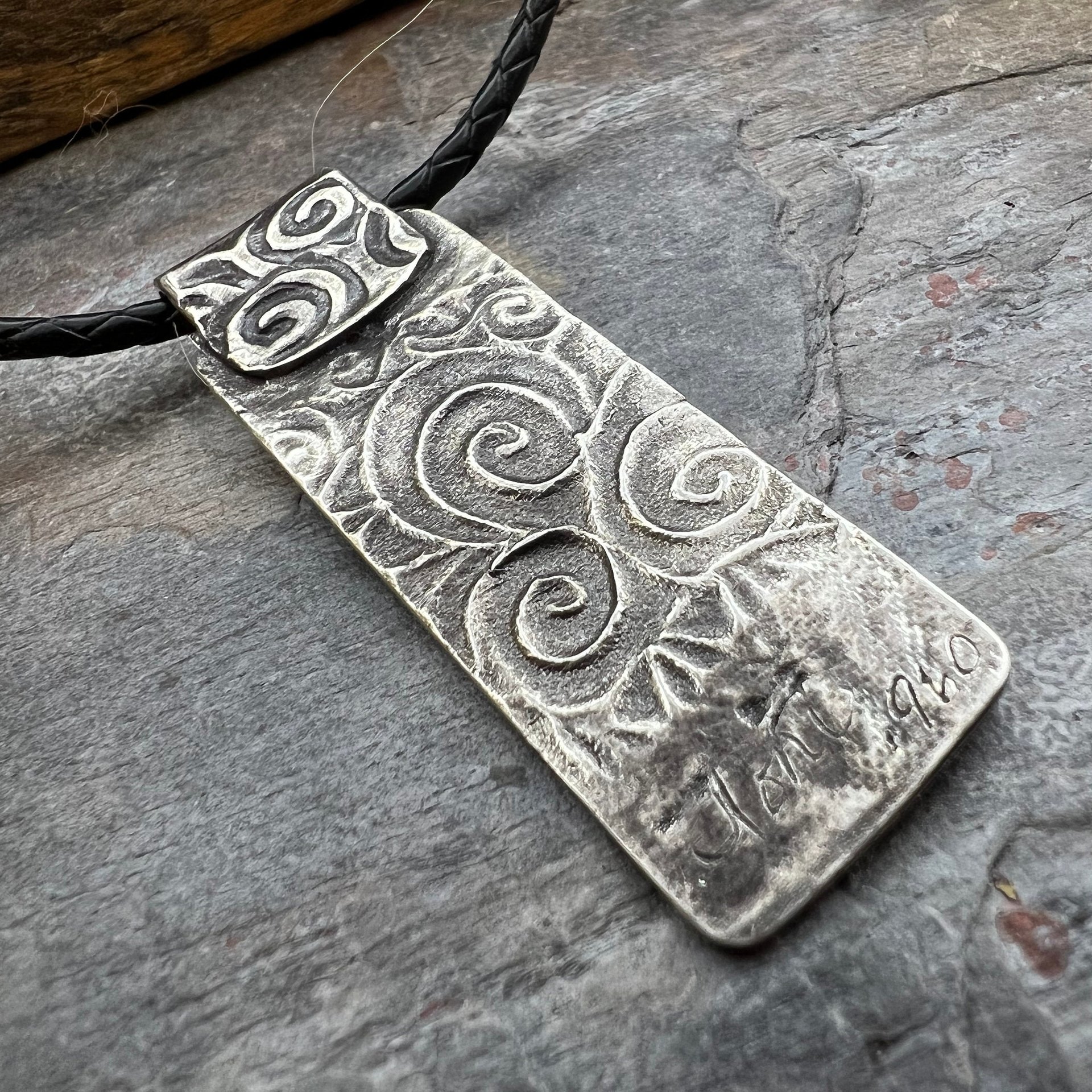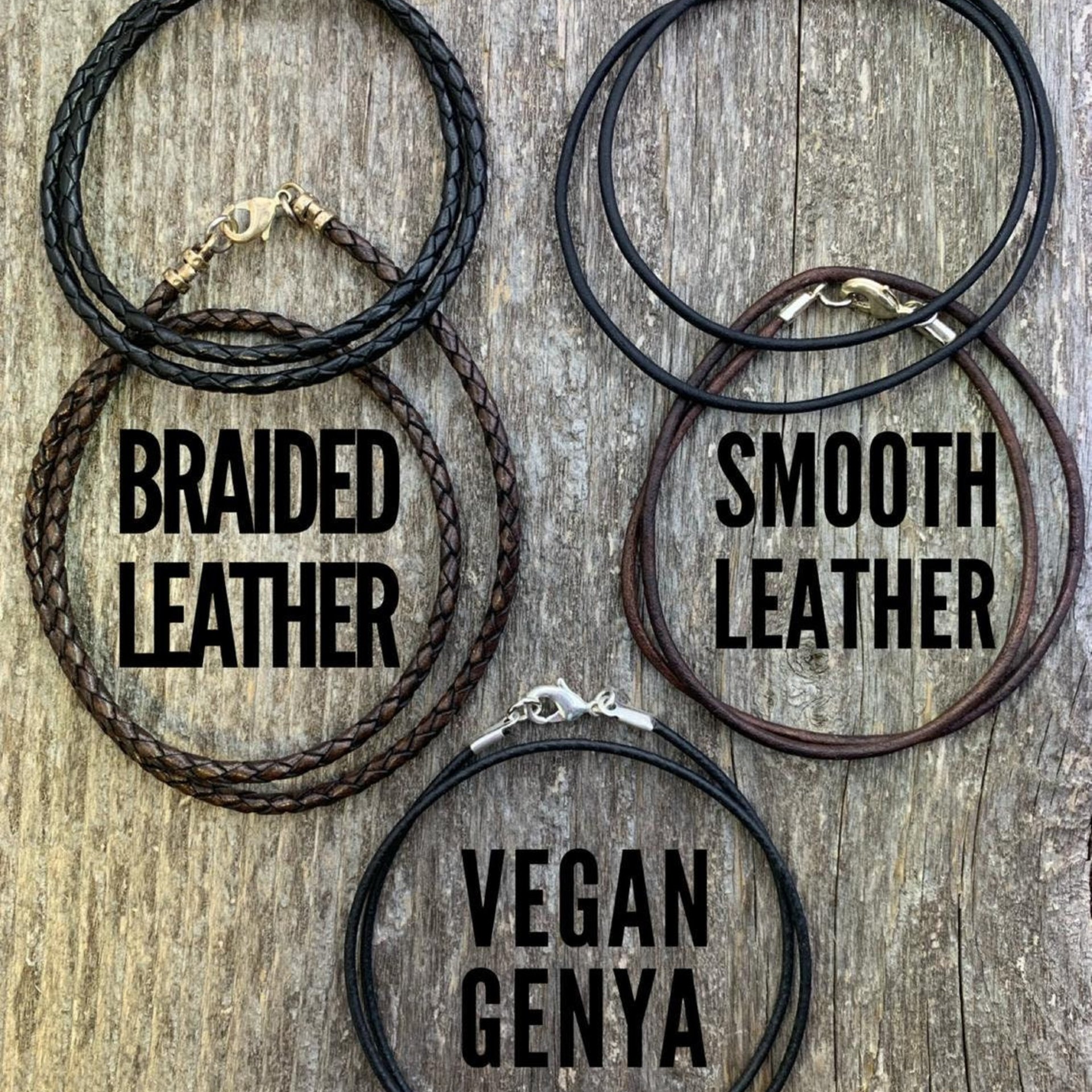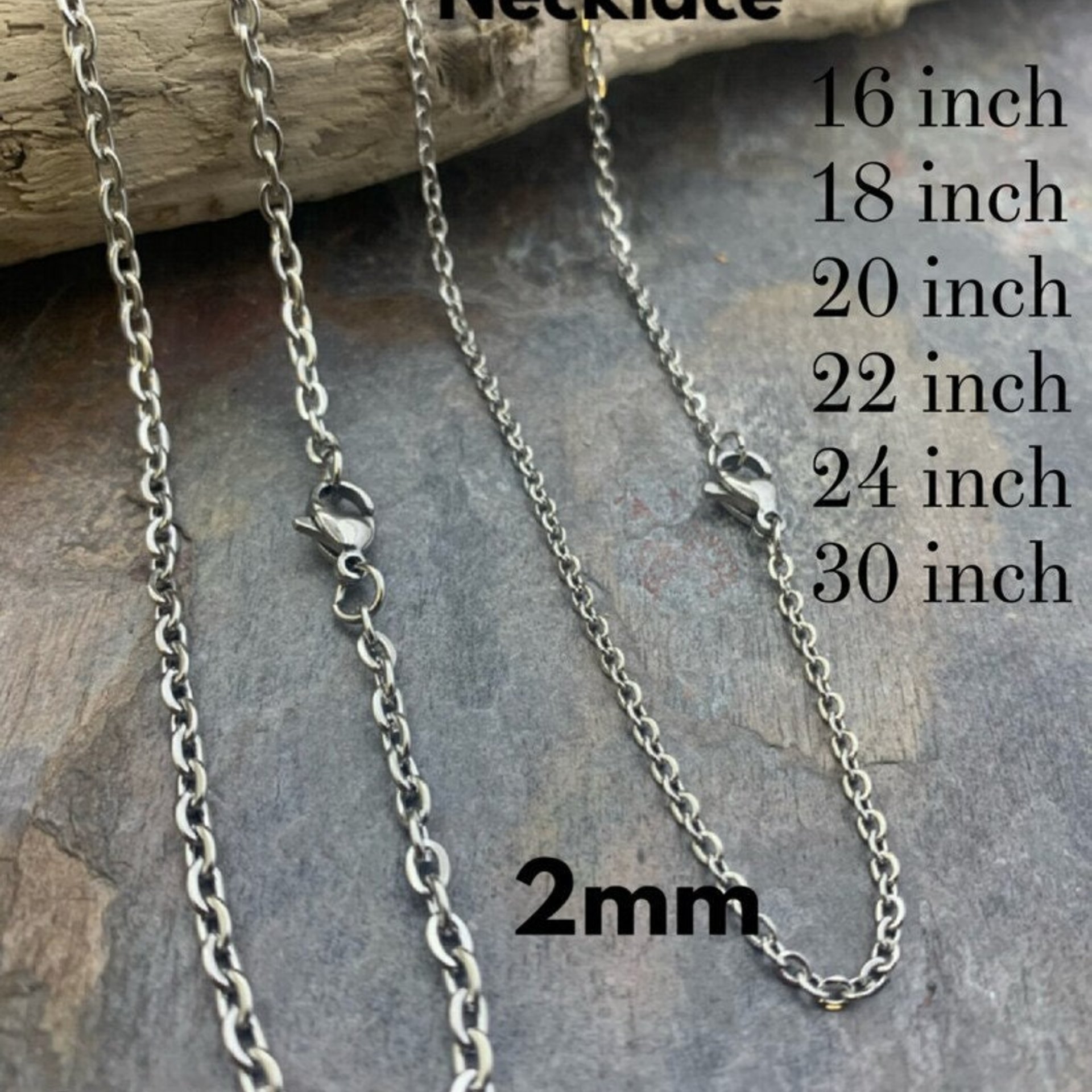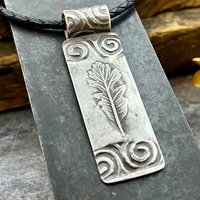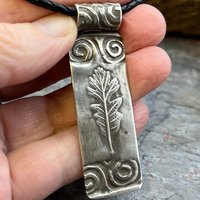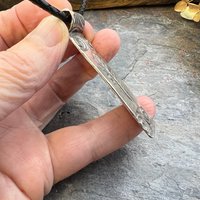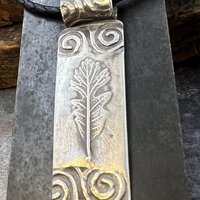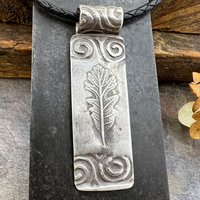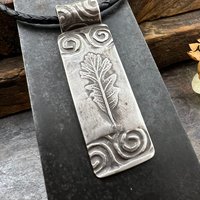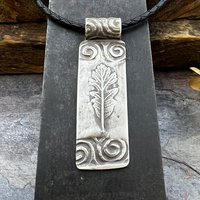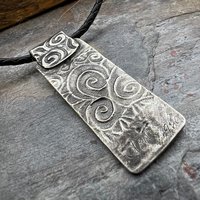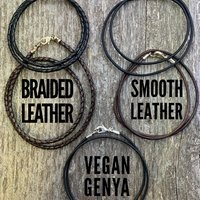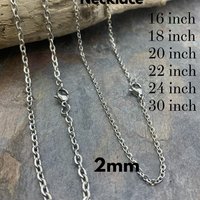 Oak Leaf Pendant, Sterling Silver, Sacred Celtic Trees, Irish Celtic Spirals, Druid Dryad, Pagan Earth, Crann Bethadh, Celtic Tree of Life
Oak Leaf pendant in beautiful Sterling Silver (.960). I created this Oak leaf texture using a real leaf found here in Wisconsin. This earthy symbol connects with spirals adorning the edges, soaring into the heavens above and deep into the roots below. The design on the back is my own adaptation of Cup and Ring marks and spirals found carved in stones in Ireland, Scotland, and other parts of Europe. Ancient Celts and druids held trees as sacred, the mighty Oak representing the Tree of Life, Crann Bethadh in Irish Gaelic, pronounced Crown Ba-ha.

I create each piece of metal by hand, my jewelry is earthy, rustic, and organic with intentional artistic imperfections. No two pieces are exactly alike, creating truly one of a kind jewelry.

Each piece of jewelry is handmade, one at a time, in my home studio in Door County, Wisconsin.

❤SIZE
•2 1/2 inches long
•3/4 of an inch across

❤SHIPPING
•FREE SHIPPING within the United States
•Ships 1-3 Business Days
•Shipping upgrade available during checkout

I have leather and vegan cords available at an extra cost. Stainless Steel Rolo chains in 3mm and 2mm are also available to purchase during checkout. The chains are all nickel and lead safe. All cords and chains close with a sturdy lobster claw clasp. Please inquire for other chain options that may be available as my inventory is always changing.

This pendant is available to ship immediately, it will arrive in a recycled Kraft box adorned with my shop logo and ready for gift giving!

Made with Love in Door County, Wisconsin❤

CARE FOR YOUR PURCHASE FROM SOUL HARBOR JEWELRY:

Copper and Bronze jewelry, including pieces with colorful patina, should not be exposed to water. Please do not shower or swim while wearing jewelry as it can drastically change the patina on the metal. All copper and bronze jewelry is treated with a protective spray lacquer to help maintain the appearance of the metal. Normal daily wear can break down the protective barrier in extreme heat and sweat.

Silver jewelry is NOT treated with a protective lacquer. Please use a soft polishing cloth to buff and bring the shine to silver. Do not use harsh chemicals as it will drastically change the patina on the metal. Please do not shower or swim while wearing your jewelry as it can drastically change the patina of the metal and durability of your cord or chain. Even excessive sweat can change the appearance of the metal, cords, and chains.